Volkswagen is extremely willing to make heavy investment budget plans for the core purpose of setting up a commercial vehicle plant in Pakistan. It would be a huge venture to help locally manufacture light-weight commercial vehicles especially Amarok and Transporter T6 Series. This mutual collaboration would bring a fruitful benefit for customers to have varied options for urban commercial cargo transportation.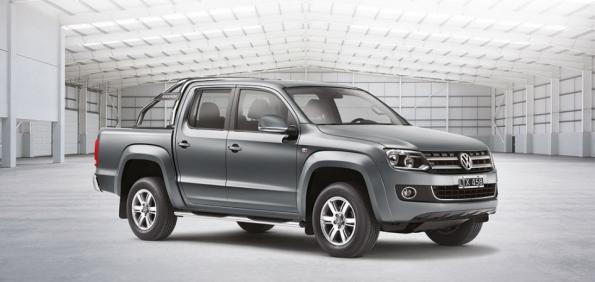 Volkswagen Amarok is popularly known for its all-terrain rugged and robust solid design appearance with tremendous off-road driving capabilities. It was initially introduced in the year 2010 as a light commercial mid-sized pickup truck to beat the stiff competition market of its direct counterparts namely Toyota Hilux, Nissan Navarra, Mitsubishi Triton, Ford Ranger, Isuzu D-Max, and Chevrolet Colorado. It is durably built with a rigid body exterior made up of a 2-door single cabin and 4-door double spacious cabin designs. It offers both gasoline and turbocharged diesel engine and powered by 6-speed manual as well as 8-speed automatic transmission.
It is an ideal 4×4 pickup truck for customers in Pakistan being launched to provide ease and efficiency of cargo handling with a luxury urban stylish drive. This muscular and study pickup truck is a perfect smart choice for those who always dare to do something different and keep a passion to explore new places with an ultimate wild adventure.
Transporter T6 is a multipurpose passenger van which provides an extreme sense of innovation and versatility in terms of futuristic box-shaped design structure, seating, and cargo capacity, as well as high-end performance. It will easily capture the local Pakistani market with immense demand and value among all ages of customers. It is powerfully equipped with advanced engine technology with extra low fuel consumption and comprises of TSI and TDI Fuel engine with euro 6 emission standard blue motion technology. This urban class 4-motion all-wheel drive passenger van has a large sized cargo load storage compartment with an ease of functionality and flexibility to accommodate as much stuff as possible.
It offers cutting-edge driving safety system which includes advanced driver assistance, dynamic infotainment system, mobile fleet park management, GPS Tracking, and mobile online services. Driver alert system, brake assist system, daytime running lights, tire pressure monitoring display, adaptive cruise control, hill start assist, lane change assist, high beam assistance, anti-lock braking system, airbags system, electronic differential lock, seatbelt warning, automatic post-collision braking system, and rear-view reversing camera are also essentially added safety features.
The establishment of a localized manufacturing plant in Pakistan in partnering with premier systems private limited will certainly help increase demand for Volkswagen commercial range of vehicles among customers which provide all-purpose solutions for everyone. There is a huge significance of family-friendly passenger van and rugged style pickup truck for an exceptionally fun and exciting journey experience. The diversity of vehicle choices creates ample opportunities for customers with a widespread dealership network to create more sales of branded commercial vehicles at low-cost affordable prices.