The New 2018 Audi Q5 is a super luxury compact crossover utility vehicle recently been introduced in Pakistan with a stunning attitude. It will provide a high rise demand with extreme value for all young passionate customers always willing for outdoor off-road adventure recreation journey.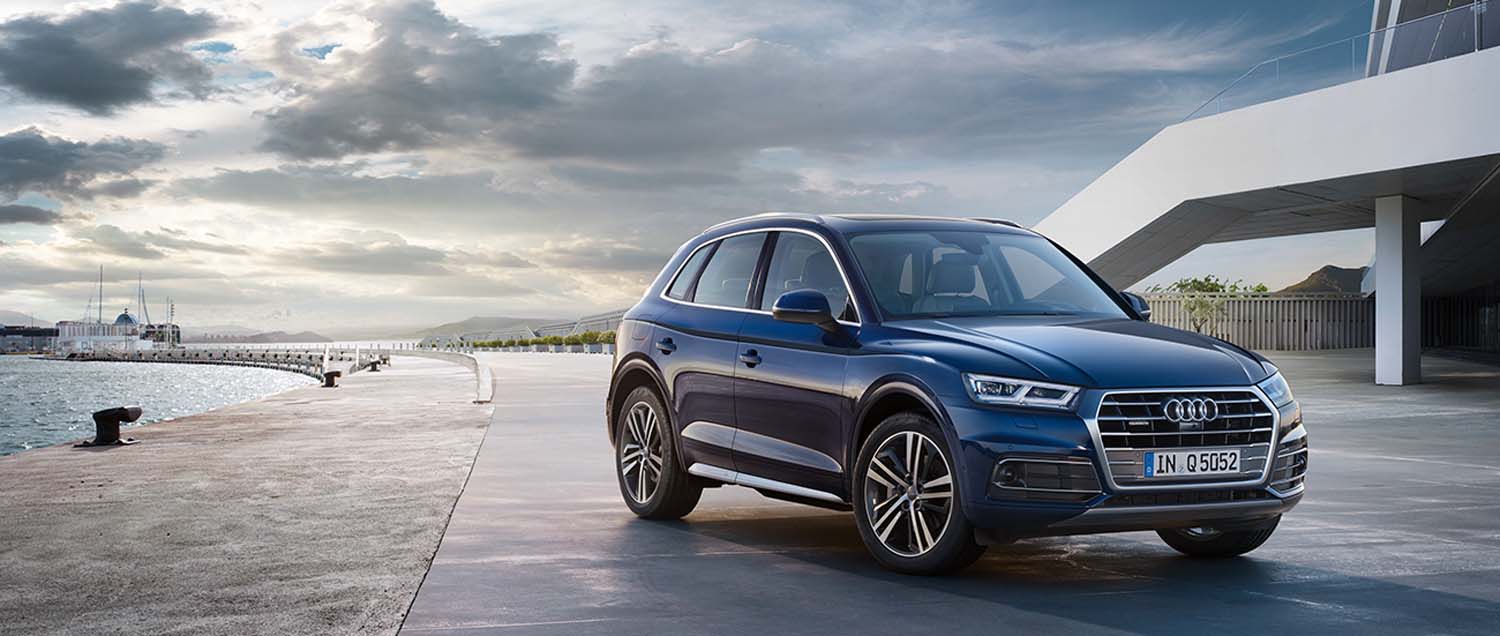 Pakistan offers a wide market for German made cars like Audi, BMW, and Mercedes-Benz as all these are considered as luxury brand vehicles with much appreciation among elite class customers to show their true means of reputation with a sophisticated manner. This upcoming Audi Q5 Crossover will be a complete family vehicle ideal for a smooth and seamless flow of urban drive experience.
Lets us further explore innovative design features:
Exterior Design
Audi Q5 2018 will feature a lavishing style redesigned refreshing look for customers in Pakistan to get them enticed by its dashing aggressive appearance to grab an instant noticeable attention. The exterior design will be made of a sleek refined robust aerodynamics structure comprising of Audi matrix LED front headlights, daytime running lights, turn signal lights, angular font metallic horizontal bar emblem grille, flat roof, front bumper, indicator lights, and roof rail. The power door mirrors and 19-inches 5 spoke alloy wheels will truly add a dynamic appeal to everyone. Moreover, the backside will show a bold curvy attractive glance to customers added with a shark fin rear radio antenna, rear spoiler high mount stop light, LED taillights, rear bumper, and rear fog lights.
Interior Design
Interior Design will provide a quiet cabin structure with a sheer sense of luxury and comfort for passengers. It will offer a highly decorated and carpeted 5 people seating capacity with having comfy Milano Nappa leather fabric for a relaxing journey experience. The seats will offer a lot of legroom and headroom space as well as rear side compartment will also be spaciously designed for a bulk of cargo storage loading accommodation. The front side fancy dashboard cockpit panel will give a distinct contemporary appeal with a glamorous style ambiance for passengers. It will be equipped with all kinds of advanced innovative infotainment and safety features like as head-up display, MMI Touch, Bang & Olufsen Sound System, intelligent navigation, Audi connect services, large slim 8.3 inches high resolution color display, sunroof, panoramic roof, air-condition, auto climate control, cruise control, AM/FM Stereo, Satellite Radio, power steering, and MP3 Player.
Driving Safety Features will be electronic stability program, six airbags, electronic differential lock, anti-lock braking system, and low tire pressure warning. The backup camera, rear child safety lock, and traction control will also be included in essential safety features.
Driving Performance
This Novel Audi Q5 will be a 5-door right-hand 4×4 compact crossover SUV fitted with 2.0 liters of 4 cylinders turbocharged gasoline with a choice of 3.0 liters of diesel engine powered by 7-speed dual clutch automatic S Tronic gearbox transmission for customers. It will provide an excellent fuel efficiency drive with 27 miles per gallon of Highway and 23 MPG Mileage of roaming around in the city.
This trendy and sporty actionable crossover vehicle will make a boom in the market by its ultra-modern stylish design, comfort, and extreme performance for customers. It will be the finest choice for elite class customers to have a smooth powerful ride with a true sense of perfection. Car Junction is a reputed name in Brand New and Used Japanese and non-Japanese cars Export to Africa, Asia, and the Caribbean countries.